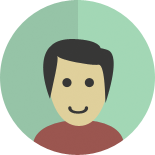 We can help get your business into the 21st century and it costs much less than you think (and most likely far less than what you`ve been quoted by other, bigger, design shops).
We promise you a personal, one-on-one service where you don`t pay a penny until you`re happy. Even if you`re not sure what you want we can have a informal chat and discuss what your options are and approximate costs with absolutely no cost or commitment – whether that is over an email or a coffee.
We both design and host websites that can range from anything such as a simple holding pages which can be used to get your brand and contact details onto the web quickly to a full blown eCommerce solution taking card payments. Plus when we`re finished you`ll be able to update your new website whenever you want and from wherever you like – no need to chase some anonymous person with endless phone calls and emails.
Sounds good? Well get in touch and we can start talking.